LINKS.
The Private Security Authority (PSA)

The Private Security Authority, which was established pursuant to the Private Security Services Act 2004, is the statutory body with responsibility for licensing and regulating the private security industry in Ireland.
The Authority is independent in the exercise of its functions. The Board of the Authority, chaired by Mr. Maurice Dockrell, consists of representatives of the legal profession, private security employers and employees, An Garda Siochána and relevant government departments and agencies.
The Private Security Authority (PSA) http://www.psa.gov.ie

National Standards Authority of Ireland (NSAI)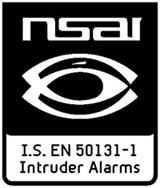 Certification is the process by which an organisation can demonstrate that an activity, product or process conforms to a standard recognised by their customers, the public and stakeholders. In some circumstances, an organisation can not market or sell its product or service without certification.
NSAI certification is recognised world wide through a network of Mutual Recognition Agreements with other major certification bodies.
ISO 9001 has been the most popular management system standard in Ireland and internationally since it was first published in 1987 and it remains a major focus of activity.
In recent years, management system standards have been introduced for the environment (ISO 14001 and I.S. 393) and health and safety (OHSAS 18001).
National Standards Authority of Ireland (NSAI) http://www.nsai.ie