PHONE SYSTEMS.
ANALOGUE SYSTEMS
KX-TES824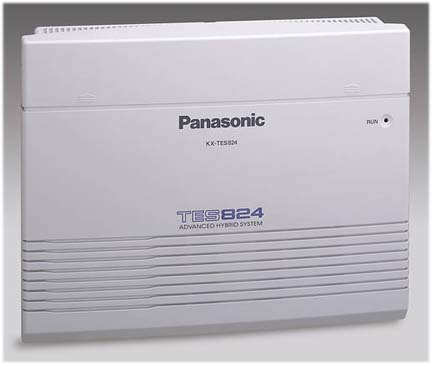 The KX-TES824E is initially configured to 3 exchange lines and 8 extensions. With optional cards you can easily expand the capacity up to 8 exchange lines and 24 extensions. The system comes with built-in DISA / Message on busy, Extension Caller ID, Remote Modem and USB Port for PC Programming. DISA allows outside callers to access any extension without going through an operator of manager, directing the call to an appropriate department or destination. The system is smart enough to even detect an incoming fax transmission – routing the call automatically to a designated fax extension. Extension Caller ID compatibility displays the incoming caller's phone number or name when used with a Panasonic proprietary display telephone. Up to 20 calls can be logged per extension. The Optional Voice Message Card ensures you will never miss a call when you are not available. You can customize your voice mailbox, by recording your own greetings which will be played when you cannot answer your phone. This system supports the KXT7730 series range of telephones.
KX-TEA308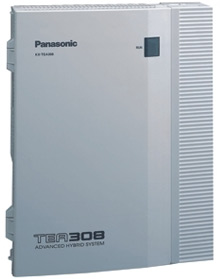 The KX-TEA308E is initially configured for 3 exchange lines and 8 extensions. The system is compatible with Caller ID service (optional), which allows a user to see the caller's information before they answer a call, for better call management. Enjoy the business benefits and efficiency of using voice messaging without adding a separate voicemail system. The optional voice message card ensures you never miss an important call – giving your customers the option to leave a message when you are not available. The KXTEA308 supports Direct Inward System Access (DISA) functions (optional) that allows outside callers to access any extension without going through an operator. Automatic greeting messages can be recorded by the operator or manager directing the caller to the appropriate destination or department. The DISA feature can drastically reduce the amount of call traffic handled by the operator to spend more time with new or important customers. This system is compatible with the KXT7700 series range of analogue handsets.
ANALOGUE HANDSETS
KXT7730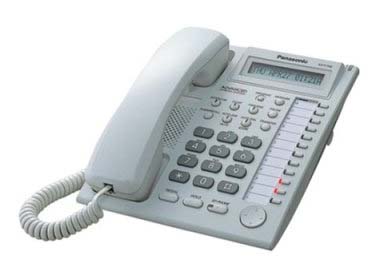 Alphanumeric Display – 1 line with a 16-character display provides useful information such as absent messages, call status, date and time and call duration. Caller ID is available with an optional card.
12 Programmable Keys – (Red/Green Lamp Status) – Enjoy one-touch operation of features such as Direct Station Selection (DSS), log-in/log-out or voicemail transfer. Dual Colour LED's show convenient information. A Busy Lamp Field (BLF) shows extensions are in use.
Incoming Call/Message Lamp – This large, easy-to-use lamp announces incoming calls or messages, so you'll always know whose telephone is ringing – even from a distance.
Navigator Key – For quick adjustment of the volume and display contrast.
Speakerphone – Speakerphone for hands-free convenience. Dial or talk without picking up the handset.
Auto Answer/Mute – Auto Answer: For use with intercom calls.
Mute: Listen without being heard.